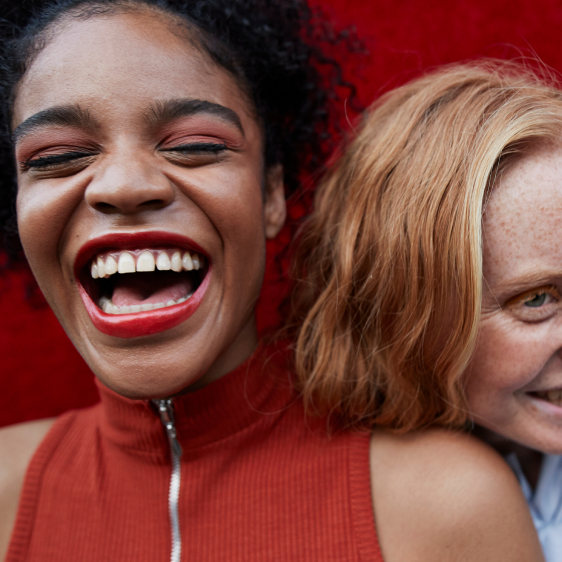 A sense of belonging for all
At Vanguard, we hold ourselves to the highest standards of ethical behaviour and stewardship.
We employ a talented, diligent and diverse crew to ensure that we serve our core purpose of taking a stand for all investors, to treat them fairly and to give them the best chance for investment success.
At Vanguard, we stand for inclusion, cultivating difference and equality. These core values are lived at the level of our crew, clients and the communities we serve worldwide.
We're committed to providing a trusting, supportive environment where everyone feels connected, appreciated and heard. This includes destigmatising the topic of mental health, through ensuring we have appropriate support options for crew and training for leaders to manage team well-being. Vanguard encourages whole-of-business conversations on mental health supported by experts in the field.

At Vanguard we try to attract and retain the best talent and give our people a 'fair go'. The achievement of a work environment where diversity and inclusion is valued and difference is cultivated is not only the right thing to do but it also amplifies our ability to collaborate, innovate and deliver an excellent client experience.
Learn more about our approach to diversity, equity and inclusion
All roles have the options to work flexibly ensuring we are creating a work environment where all crew members can work productively and be more strongly engaged with their work while reducing work/life conflict.
Promotion, recruitment and selection
We seek to ensure that the candidate pool for roles advertised internally and externally are diverse, with representation from all genders.
We recognise the importance of fair reward in attracting and retaining crew members and promoting engagement. We're committed to gender pay equity and demonstrates this commitment with annual analysis and monitoring of pay.
A highly engaged crew is at the core of our flywheel. There are a number of ongoing programs that support engagement efforts. These include our benefits program that provides benefits to all crew members at all stages of life, including those with caring responsibilities. Our Flexible Working and Home Working Policy and practices support crew members in balancing their work and life priorities and reduce barriers to inclusion.
Career development and performance
Our career development programs ensure that our crew feel empowered and supported to achieve their career goals. Our talent management programs seek to ensure that crew of all genders are represented within training programs, specialty development programs and succession plans.
Gender equality
We're committed to promoting gender equality and ensuring that all crew members can access and enjoy the same opportunities, rewards and recognition irrespective of gender.
We demonstrate this commitment throughout the employment lifecycle by ensuring that our practices and processes are designed to promote inclusion and equal opportunity, and to remove barriers and bias.
Working towards gender equality is one way that we put our core values of integrity, focus and stewardship into action. It is in our client's best interests that we attract and retain the best talent to Vanguard and give our people a 'fair go' so that we can deliver the best outcomes to our investors.
Vanguard also reports annually to the Australian Workplace Gender Equality Agency (WGEA).
Accessibility
We're committed to ensuring Vanguard information and functionality is accessible to all people regardless of visual, auditory, motor and cognitive abilities.
We do this by:
Raising accessibility awareness
Educating crew
Documenting best practices
Advocating for process improvements
Championing and validating the implementation of accessibility guidelines
Culture
We all have a role in creating an inclusive environment where everyone feels connected, appreciated and heard.
Vanguard leaders and crew recognise it is the actions we take with one another every day that create this environment where crew members feel valued and safe from discrimination.
We are committed to creating this inclusive culture by supporting the diverse strengths, backgrounds, experiences, and identities that our crew and clients bring to the organisation.
We believe that our crew feel valued and form stronger connections when we:
Seek to understand and learn about one another through genuine dialogue
Respect differing viewpoints and experiences
Listen to others in a way that leaves them feeling heard and respected
Express empathy for the challenges faced and experiences of others
Are curious and entertain new ways of thinking so that we can learn from others and grow personally and professionally
Celebrate the many dimensions of diversity that all crew members bring to the workplace
Celebrating and supporting our individual identities
At Vanguard, we have several Employee Resource Groups that are voluntary, employee-led groups that foster a diverse, inclusive workplace aligned with Vanguard's mission, values, and goals towards fostering a diverse and inclusive environment.
Women's Initiative for Leadership Success (WILS)
The Women's Initiative for Leadership Success (WILS) was established to support Vanguard's efforts of increasing the representation of women in leadership positions at Vanguard. Through professional leadership development opportunities and events, WILS is committed to inspiring and preparing women for leadership positions at Vanguard.
Out Professional Engagement Network (OPEN)
We believe supporting our Lesbian, Gay, Bisexual, Transgender, Intersex and Queer (LGBTIQ+) crew and community is part of building an inclusive culture. OPEN works within Vanguard to create a safe and inclusive environment for our LGBTIQ+ crew so they feel comfortable bringing their whole selves to work and thrive in their Vanguard careers.
Leadership & Engagement for Asian Professionals (LEAP)
LEAP is committed to creating an inclusive environment where crew of Asian heritage are supported and empowered to fully contribute to their best capability and leadership potential.
Hispanic/Latinx Organisation (HOLA)
HOLA is committed to building and sustaining an inclusive community that welcomes all individuals and supports the attraction, engagement, and growth of Hispanic/Latinx crew while also celebrating the diverse cultures within the Hispanic/Latinx community.
Vanguard Black Professional Network (VBPN)
Our global VBPN is dedicated to promoting an inclusive environment for black crew to thrive in their Vanguard careers. We are committed to our mission of increasing engagement of black crew members and supporting the increased representation of black crew in leadership positions.
Reconciliation Action Plan (RAP)
We're currently working with Reconciliation Australia on a Reconciliation Action Plan that outlines Vanguard Australia's commitment of supporting and contributing to developing respectful relationships and creating meaningful opportunities with Aboriginal and Torres Strait Islander peoples.