Getting insurance cover through super
We offer Death, TPD (Total & Permanent Disablement) and Income Protection insurance to eligible members. It's a way of protecting you and your family if life were to take an unexpected turn.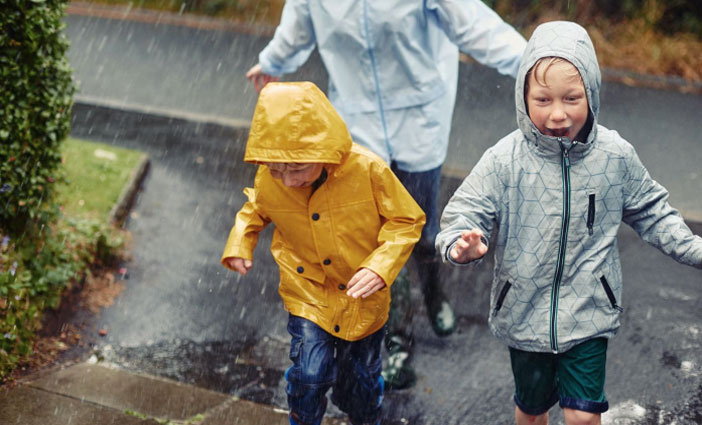 Some benefits of being insured through super
Premiums are typically lower than going directly through an insurance provider. We don't add a margin on top either, which means you only pay what our provider charges.
If you're eligible, you don't need to see a doctor or have a health check to receive default cover.
Premiums are taken out of your super account, so nothing extra comes out of your take home pay.
We hope you remain healthy and financially secure throughout your life and never need to use any of this cover. If something unexpected were to happen though, insurance can help support you and your family. For those who are eligible, we offer three types of cover through Vanguard Super:
TPD (Total & Permanent Disablement)
Included in our default cover
If you are unable to work due to a permanent disability, TPD Cover can help ease the financial burden with a lump sum payment. You can only have TPD Cover if you also have Death Cover though, and your amount of TPD Cover can't be more than your Death Cover.
Included in our default cover
If you become terminally ill or pass away, you or your beneficiary/ beneficiaries will receive a lump sum payment to help alleviate some of the financial stress that might arise.
Not included in default cover
If you can't work temporarily because you're ill or injured, this cover provides a monthly payment for up to two years, or up to five years, to support you in your recovery.
Your level of default cover changes with your age
When you join Vanguard Super and meet the eligibility conditions, you'll automatically receive a basic level of Death and TPD Cover. You can cancel this default cover at any time.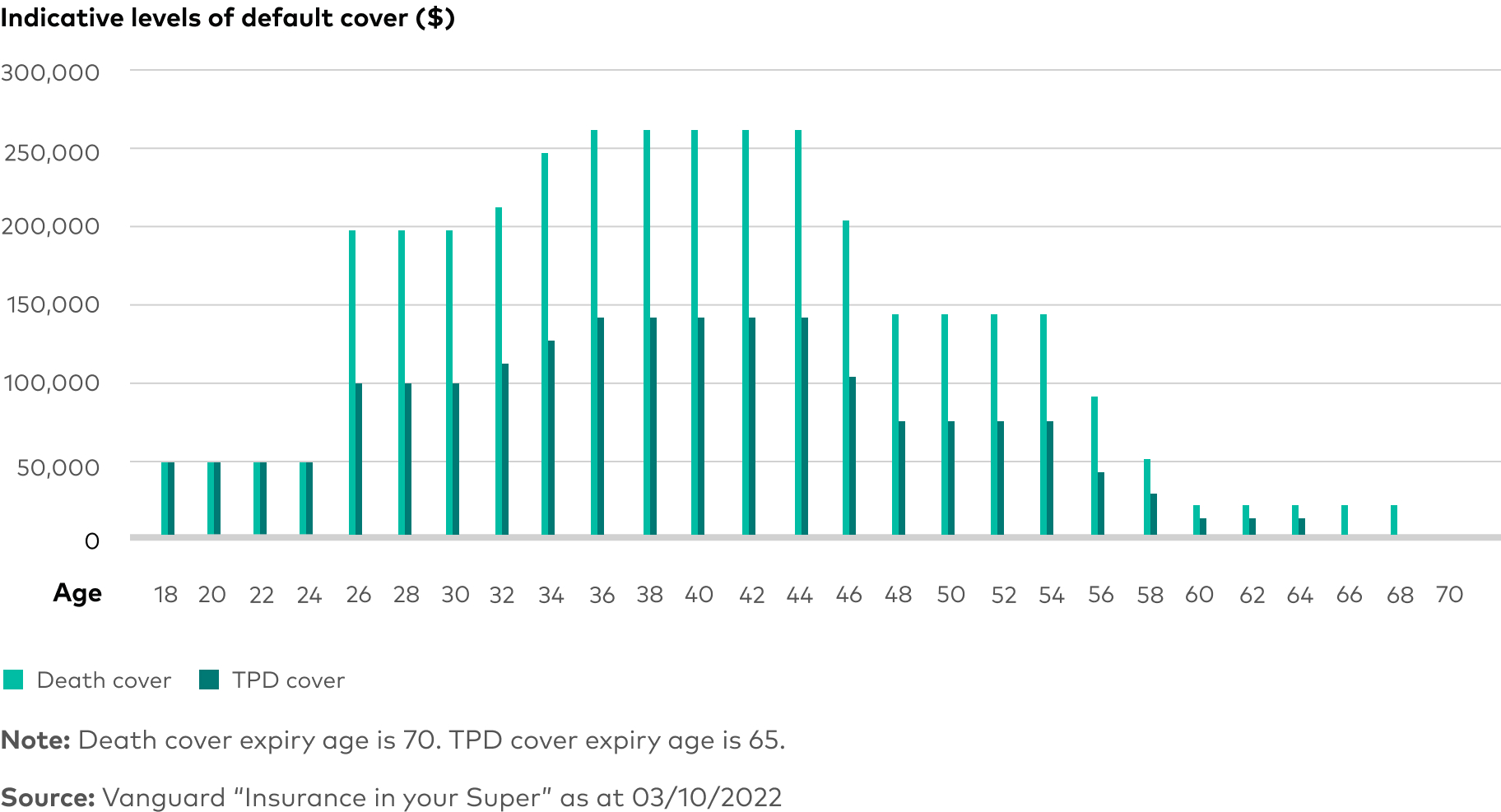 Our default cover needs to suit a broad range of members, which is why we've designed it to change with you as you age.

This default cover starts low when you're young and most likely to be independent. In your 30s and 40s, your default cover increases to accommodate life changes – many people have more debt during these years, along with families to protect. Then, as you get older, your default cover will start to reduce again.
Find your level of default cover and the premiums that apply in our Insurance Guide.
Calculate your insurance needs
We've made it easy for you to work out how much cover you may need with our Insurance Needs Calculator.
The following link opens up in a new tabFind out how much cover you may need
Adjust your insurance to suit you
Our default cover isn't compulsory – you're free to cancel or adjust it at any point. You can also opt out before it starts.
If you need more cover for any reason, you can apply for additional cover (including Income Protection) by logging in to your Vanguard Super account. You can also reduce your level of cover if it's not right or your situation changes.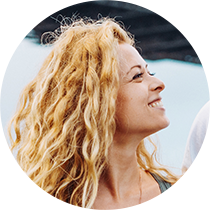 In real life
Now
Asher is 31 years old and will receive $198, 650 of Death Cover, and $99,325 of TPD Cover automatically when she joins Vanguard Super and meets the eligibility criteria.


Next year
On her next birthday, Asher's cover will increase to $214, 810 of Death Cover, and $107, 405 of TPD Cover. Her premiums will change as well, to reflect this increase.

Find your level of default cover and the premiums that apply in our Insurance Guide.
To be eligible for insurance cover, you need to:
Be a member of Vanguard Super
Be over 18
Be under the age of 65 for TPD and Income Protection Cover, and under the age of 70 for Death Cover
Be an Australian citizen or Visa holder
Have worked a minimum of 15 hours per week in the last 3 months to be eligible for TPD and Income Protection Cover
Be in a job that isn't considered a Hazardous Occupation for TPD and Income Protection Cover
Have not previously received, or be eligible to claim, a Terminal Illness or TPD benefit from us, or from another super fund or insurer
Have not previously received, or be eligible to receive, a benefit in accordance with the conditions of release under the Superannuation Industry (Supervision) Regulations 1994 (Cth) for terminal medical condition or permanent incapacity, either from us or another super fund
When cover will start automatically
If you're eligible for default Death and TPD cover, your cover will automatically start when you meet the following criteria (unless you've chosen to start your default cover early):
You're 25 years or older
You've got $6,000 or more in your account
Your employer has made a superannuation guarantee (SG) contribution into your Vanguard Super account on your behalf
Helpful forms & documents
Vanguard Super SaveSmart Product Disclosure Statement
A summary of key information about investing in Vanguard Super SaveSmart. Everything from how we invest your money, our fees and costs, to how your super is taxed.
Learn more about insurance through your Vanguard Super SaveSmart account, including types of cover, eligibility, costs, changing or cancelling cover, and how to claim.
Target market determination
More about the consumer suited to Vanguard Super's SaveSmart offer. Contains information on their likely objectives, financial situation and needs (the "target market"). Also contains details on the distribution conditions for Vanguard Super products.
If you already have cover through another super fund, you have a couple of options. You can:
Transfer your cover to Vanguard Super.
Keep your cover where it is.
Opt out of our default cover through Vanguard Super. You can do this when you join. If you've joined through an employer, you'll need to complete an Opt out of default cover form.
As part of your Vanguard Super SaveSmart account you have access to simple, smart and flexible cover that you can change according to your needs. Apply to increase, decrease or cancel your cover at any time. If you've got any questions about your insurance options, don't hesitate to get in touch on 1300 655 101 and we'll help you get it sorted.
We're here to talk
If you're struggling to find the information you need, or you have questions that haven't been answered yet, we can help. Call us on 1300 655 101 between 8am and 6pm (AET), Monday to Friday.